China's corn price witnessed a stable trend in the harvesting season of 2017, due to less output of corn, caused by extreme weather occurrences which damaged parts of the crop. However, the price is likely to remain overall stable in the beginning of 2018, despite the price hike in December, facing high supply and moderate demand.
Corn Price in China in 2017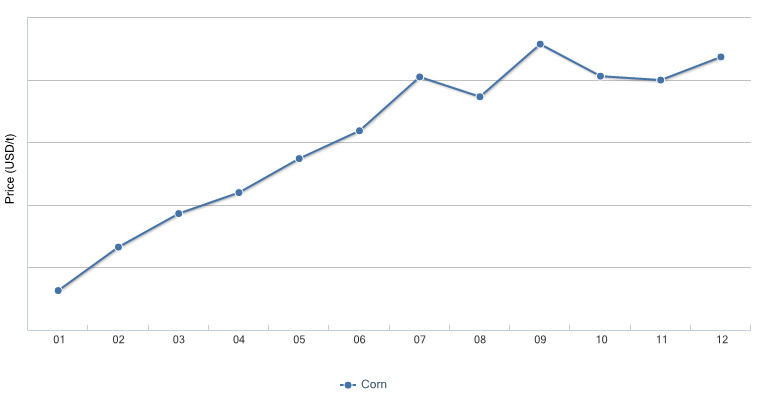 Source: CCM
Market intelligence firm CCM is of the opinion that the price hikes, which are happening since the start of December in China, are just a psychological game between corn sellers and buyers, without real substance to support the rise.
Looking at the current corn market in Northeast China, the main region for corn production in the country, most of the corn supply is held by small- and medium-sized traders, which are able to store their corn in inventories, able to keep the price high. In addition to that, as New Year's Day and Spring Festival are coming in China, feed enterprises in the south of the country need to purchase a lot of corn for animal feed, which creates a high demand that furthermore boosts the prices of corn.
However, as corn prices have raised a lot throughout 2017 already, Northeast companies were cautious about purchasing corn in large amount. As a result, the corn prices are unlikely to see high fluctuation in the beginning of 2018, remaining stable in the short run.
In the middle of December 2017, the Ministry of Agriculture revealed that China's grain output stabilised at more than 6,000 kg in 2017, which represents a bumper harvest again. It is predicted that grain corn areas in non-dominant regions will be cut by about 1.33 million ha in 2017.
Price gap between Chinese and global corn
China's corn stockpile and planting reforms, which indicate a reduced corn output and planting area in China in the past year as well as in the coming years, have resulted in a price gap between Chinese and world supplies, with a difference higher than many investors have forecasted.
As a result of the gap, China has increasingly become a net importer of corn, as the domestic corn was not as competitive as the imports in terms of price. The reasons for the uncompetitive price of domestic corn include rising costs of farmland, labour, agricultural materials, small farm scale, less efficient production and relatively low unit yield. As a result, a large portion of rising domestic output of corn entered into the corn stockpile of the country.
Before 2010, China had been a significant net exporter, having exported as much as 15.2 million tonnes in 2002 at its peak. However, with export plunge in 2008 and low export volume since then and surging imports in 2010 and relatively big import volume since then, China has become a net corn importer from 2010, despite the fact that the rising domestic output has successfully limited the extent of China's corn import and resulted in very high levels of self-sufficiency rate of corn.
It is forecasted that in the short run, direct government subsidies to producers will be the major measures adopted by the Chinese government to facilitate the difficult adjustments that need to take place as corn production and stock are reduced. Only after these difficult adjustments have been completed, China can adopt a less burdensome approach towards its intervention in the corn sector, with features of lower government spending and lower levels of production, and possibly a smaller gap between the domestic and the world market price.
CCM considered that if the government aims to optimise corn stockpiles and to balance the structure of supply and demand, it will set a rational purchase price or even set a flexible price based on the market. In this way, storage enterprises can purchase corn at the right price, which won't disturb the healthy development of the market.
About this article
The information of this article comes from CCM, China's leading market intelligence provider for the fields of agriculture, chemicals, and food & feed.
For a detailed analysis of China's corn market, please have a look at China's monthly newsletter about corn products in China and the recently published industrial market research reports.
For any inquiries, please contact our team directly at econtact@cnchemicals.com or call on 86-20-37616606.