China is strengthening the research and development of agriculture, in order to enhance the use of the small percentage amount of arable land the country possesses, aiming to feed more than 1.4 billion people or one-fifth of the world population with growing demands for food and beverages. The only way to achieve such a monumental task would be the modernization and technologizing of often outdated agricultural practices.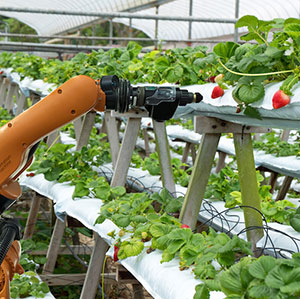 Much has changed in the middle kingdom already, which still employs the largest share of its population in the agricultural section, far more than in developed countries.




Relying on imports in many food segments currently, Chinese agricultural manufactures have to find better ways to ensure sufficient food supply in the country, as the competition from a booming population in regions like South America and Africa is going to get tight in the second half of this century.




In 2015 China was already the seventh largest importer of food products, the fourth biggest importer of animals and had become the world's largest importer of vegetables.




Not to mention, with modernization the Chinese economy is switching from an agricultural based society to a manufacturing and service-providing one. The society's human capital is gaining advanced skillsets and the number of farmers is dropping.




In each case, technology is the key to balancing the food equation. The nation is spending billions on water systems, seeds, robots and data science to roll back some of the ravages of industry and develop sustainable, high-yield farms.




For this process, the Agricultural Development Bank of China, one of the country's main policy lenders, agreed to loan at least USD450 billion by 2020 for the modernization of China's agriculture industry, according to state media of the country.




And progress is being made in the middle kingdom. More Chinese enterprises are announcing breakthroughs in agriculture-related technologies in recent years and reveal a view on the fast=paced development the industry is undergoing to transfer from a simple agricultural product supplier to a service provider.




New technologies on Chinese farms are enabling to monitor temperature, humidity, and even light intensity of crops by using sensors and a control terminal.




Developing protected cultivation is among the agricultural technology the Chinese government has been working on to help especially rural residents in the arid and semi-arid regions of China.




Agricultural drones help already farmers scan fields, monitor crops and seeding or analyze plant health. Farm activities can become much more effective when drone data, IoT and computer vision technologies join forces to optimize strategies.




Intelligent farming platform by Sinochem

According to Xinhuanet, China's agrochemical manufacturer Sinochem has recently launched a new intelligent agricultural platform which is aiming to provide several offline and online services for farmers regarding seed selection, soil detection, machinery training, and many more. The platform is firstly launched in China's Anhui Province, a region mostly known for the vast grain farming.




Part of the online platform is the automatically supply of fertilizers or pesticides, as well as seeds, monitored by the platform and delivered by Sinochem. This process enables farmers to get an analysis of their soil and a recommendation by the intelligent system, which lowers costs and stabilize sales.




The company is another example for agriculture-related enterprises in China, which switch their focus from pure agricultural product sales to agricultural technical solutions offering. China's farmers are often still relying on traditional agricultural measures and need to be convinced that technology integrated farming can reduce costs and ease many sectors of agricultural process.




Sinochem plans to promote its first-of-its-kind platform in whole China by building more than 50 technical service centres by the end of 2018




Brain of Agriculture

In October 2017, China has launched the first artificial intelligence (AI) project in the field of agriculture and farming, called Brain of Agriculture. The project starts with a system of a Precise Agricultural Platform, able to execute 26 different functions in total. The project was officially launched in Wuhan City, Hubei Province in China.




The new system, using big data management technologies, cloud, computing, and super artificial intelligence, is aiming to provide supporting data for effective decision making of farmers. Factors that play an important role in the calculation of Brain of Agriculture are soil and climate conditions, as well as pest and diseases occurrences, which are monitored through sensors on the field and from information, crawled from the internet.




New software to assist farmers and traders in China

Kcomber has developed a new agricultural services software for Chinese farmers, traders, and retailers called Yoonop. It is a cloud service platform starts that provides full ranges of comprehensive business management to connect agriculture with market intelligence and knowledge sharing.







Yoonop embeds household, manufacturers and big data service modules to realize the connectivity of information on all stages of the agricultural supply chain as well as consumption chain. The software enables farmers to track the development of their crops and get immediate recommendations on disease treatment, agrochemical usage, and cultivation based on pictures taken from the plants.




Tracking the supply and demand of thousands of crops in China, the system can give agricultural formula recommendations and product quantity recommendations for farmers and traders.




Do you want to find out more about the new agricultural service software of Kcomber? Please contact our team at econtact@cnchemicals.com to discover how new technology is revolutionizing the way of agriculture by reducing costs and optimizing output and sales of your crops.