Chinese Titanium Dioxide (TiO2) market tumbled in H2 2015 and so did its upstream industry, the titanium slag industry. CCM analyzes that impacted by problems such as severe overcapacity, dispersed capacity distribution and backward production techniques, China's titanium slag industry has already fallen to its bottom.
Since the second half of 2011, the once prosperous China's TiO2 industry began to go downhill. After another sharp decline, market price of TiO2 has already dropped to the production cost level. Losing hope in demand from downstream markets, Chinese TiO2 manufacturers squeezed their upstream industry, the titanium slag industry, for lower prices. As a result, China's titanium slag industry fell to its bottom.
According to CCM, currently, major quotation for 90% high titanium slag is USD675/t, that for 92% high titanium slag is USD685/t and that for 74%-76% acid dissolved titanium slag is USD415/t. Compared with major quotations for these products in June 2015, decrease rates all surpassed 10%.
From the perspective of operating rate, in Sept. 2015, operating rate of high titanium slag was only 35.40% and that of acid dissolved titanium slag even dropped to 27.80%, reflecting that Chinese titanium slag market was so depressed.
CCM believes that, the sluggish TiO2 market was only the last straw to the depressed titanium slag market and the real reasons for this tragedy are the three big internal contradictions: severe overcapacity, small-scale capacity with backward production techniques and product quality that doesn't meet market demand.

Severe overcapacity
In 2010, the boom in China's TiO2 industry boosted the titanium slag industry which has lower industry threshold and strong rigid demand. China's titanium slag industry had become investors' favorite and crazy speculation had led to a capacity expansion that far exceeded the real market demand.
According to statistics from CCM, as of the end of 2014, the total capacity of titanium slag in China hit 2.18 million t/a. However, entering 2015, the overall operating rate of the industry was less than 40%, which means that up to 1.30 million t/a of titanium slag production lines stopped production for a long term.
Severe overcapacity indicates serious imbalance between demand and supply. As a result, market price of titanium slag kept falling down in vicious price wars among titanium slag manufacturers.
Small-scale capacity with backward production techniques
The surplus titanium slag capacity developed quickly under the speculation boom. Investors put short-term profits first so most of the capacity that built around 2010 was in small scale, with backward production technologies and producing highly homogenized products.
According to CCM, there are about 80+ titanium slag manufacturers in China, mainly located in Sichuan, Yunnan, Hebei, Liaoning provinces, Inner Mongolia Autonomous Region and other regions. Among them, only less than 15 manufacturers have a capacity of above 60,000 t/a.
Small-scale production will lead to higher production costs and without enough input of investment, most of the medium and small manufacturers will definitely fall behind in production techniques.
In recent years, apart from the 30 MVW electric furnace introduced by Yunnan Xinli Nonferrous Metals Co., Ltd., the Ukrainian 25 MVW electric furnace introduced by Pangang Group Titanium Co., Ltd. and the 30 MVW electric furnace of Panzhihua Jinjiang Titanium Co., Ltd., most of the electric furnaces only have a transformer capacity between 0.4-7 MVW. Production techniques that they applied are of the 1980s' level.
High pollution, high energy consumption and low recovery rate make these manufactures have no advantages in the competitive market and their even don't have export markets.
Product quality not conform to market demand
Different TiO2 products have different requirements for the quality of titanium slag:
- Chloride-processed TiO2
Detail requirements for titanium slag are: TiO2 content > 90%; content of CaO + MgO < 1%; proportion of slag granule with size between 40-160 mesh > 80%.
Currently, no high titanium slag produced by titanium concentrate in China can meet such requirements.
- Sulfate-processed TiO2:
Detail requirements for acid dissolved titanium slag are: good acid dissolved; few low-valence titanium and iron : titanium >0.25.
Currently, most of the acid dissolved titanium slag produced in China cannot meet demands mentioned above, so most of the TiO2 manufacturers adopt titanium concentrate as raw material instead, influencing the market promotion and application of acid dissolved titanium slag greatly.
Figure 1: China's output of high titanium slag, Jan.-Sept. 2015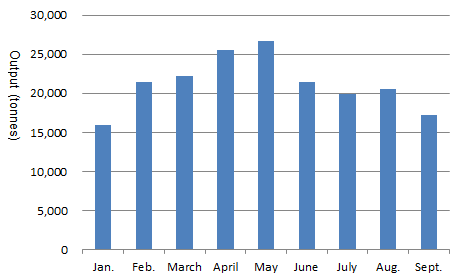 Source: CCM
Figure 2: China's output of acid dissolved titanium slag in Jan.-Sept. 2015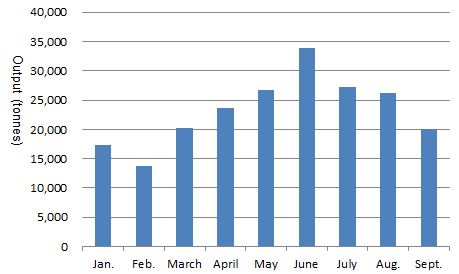 Source: CCM
For more information of the TiO2 industry, please visit one of our products: Titanium Dioxide China Monthly Report
About CCM:
CCM is the leading market intelligence provider for China's agriculture, chemicals, food & ingredients and life science markets. Founded in 2001, CCM offers a range of data and content solutions, from price and trade data to industry newsletters and customized market research reports. Our clients include Monsanto, DuPont, Shell, Bayer, and Syngenta. CCM is a brand of Kcomber Inc.
For more information about CCM, please visit www.cnchemicals.com or get in touch with us directly by emailing econtact@cnchemicals.com or calling +86-20-37616606.