In the fight of Beijing against environmental pollution, the mining industry is not spared. New regulations are restricting mining licenses, cutting down smaller enterprises, and increasing taxes. The efforts are leading to higher production costs and less supply of Chinese minerals in the world market, opening opportunities of exporters to meet China's growing demand for minerals and ores.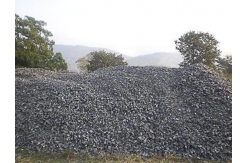 China has increased her measurements to limit environmental pollution since 2016 significantly and the country shows no sign to slow down the efforts. Many heavy polluting industries like Chemicals, Pharmaceuticals, and Biotechnology have witnessed periodically inspections followed by shutdowns of small and middle-sized companies as well as production limitations for the bigger players.
Now, Beijing is increasing the pressure on the mining industry. According to Reuters, the middle kingdom has announced to cancel about a third of its iron ore mining licenses, which are blamed for polluting the air and decreasing air quality significantly.
To talk in numbers, the cancellation of mining rights is going to affect more than 1,000 companies. Among them mostly small miner who don't have the means to fight against environmental pollution of their business.
Notably, raw iron mine in China is mostly low grade, consisting of less than 30% iron content in general. In comparison, international players have normally iron ore products with over 60%.
Besides iron mining, China is putting pressure on plenty more mining industries. For example, according to market intelligence form CCM, the Ministry of Land and Resources has recently approved the new mineral resources plan of Hainan Province, one of China's most important mining region.
The new plan regulates the total exploitation of minerals such as ilmenite, molybdenum, zircon, fluorite, and more in order to implement the strong marine province strategy via constructing oil and gas resources exploitation service base.
The mining sector has been a crucial part of China's rapid economic expansion in the last three decades, but poor regulation and weak enforcement of standards has contaminated much of the country's soil and left parts of its land and water supplies unfit for human use, threatening public health.
It is worth noticing, that China's mining industry is lacking the efforts in investment, which might be the cause of a low production in the future and hence less competitive advantage in the international market.
New environmental protection tax law in 2018
In fact, from 2018 onwards, China's new environmental protection tax law is coming into effect, adding, even more, pressure on the mining and processing industry. With the new law, companies will have to pay specific environmental protection taxes for the first time in the country, replacing the current pollutant discharge fee.
In the new law, companies have to pay unit rates counting how much air pollution, water pollution, coal waste, and hazardous waste have been emitted.
Some industry experts have voiced their concern, that with the new law a big amount of China's mining companies might become uneconomic to run, which can lead to a significantly lower supply of mined raw materials in the world market.
The mining industry in China is going to face higher production costs along with reduces production in general, which will also affect the global supply chain. The impact has been to raise prices and to restrict exports of metals into overseas markets. Prices in Europe are now expected to close in on domestic China price levels, which have been markedly higher in many areas, particularly in spot markets.
Industrial analysts believe that the mining cost will have a significant increase even if the miners are approved to mine under the current regulations. In the meantime, the mineral resources regulations are also affecting downstream industries of mining. For example, mining restrictions on titanium, barium sulphate, and calcium carbonate companies will increase the production cost of their downstream coating companies.
Higher mineral imports in China
Another side effect of the new regulations for China's mining industry is an increasing amount of imports for China's enterprises. For example, China's import volume of ironstone has reached its historical peak in September 2017. The high import volume was the result of limited domestic supply due to environmental inspections in the industry.
In regard to the development of China's mining industry, CCM believes that environment inspections and mineral resources controls are both affecting the current status quo. In the titanium industry, one of CCM's core market research areas, multiple environment inspections in major provinces have lower the supply of ilmenite, which drove up the TiO2 price. Moreover, mass import of ilmenite in 2017 led to further price increase. According to China Customs data, the total import volume of ilmenite increased from January to September 2017 by 37.20% compared to the corresponding period in 2016.
Switching from land to sea
While fighting the pollution of mining minerals on land, China is simultaneously exploring new ways of mining, including deep sea mining. This method is used especially for mining "rare earth" materials, the minerals used in high-tech devices of which China is the worldwide supplier, dominating the global market share by more than 90%.
As a result of the increasing demand for rare earth in electronic devices as well as green technology products and electric cars, the land-based supplies of China are getting less and more difficult to reach.
Switching to sea-based mining for minerals have become much more cost-effective in recent years, making it a profitable alternative to traditional mining. China has become one of the major players in deep-sea mining, learning to build the digging machines as well as the vessels where they are attached to.
Looking at the high pollution of mining at land, especially rare earth mining, the dive into deep waters might be the next big step to counter environmental pollution in the country.
About CCM
CCM is the leading market intelligence provider for China's agriculture, chemicals, food & ingredients and life science markets.
Do you want to find out more about the
mining
market in China? Try our
Industrial Reports
or join our professional
online platform
today and get insights in Reports, Newsletter, and Market Data at one place.