Foreign companies are dominating many dairy product markets in China, due to the higher quality and cheaper production costs than of domestic manufacturers. However, the segment of yoghurt is mostly covered by Chinese firms, enjoying high-profit margins and booming demand while facing less competition from international players.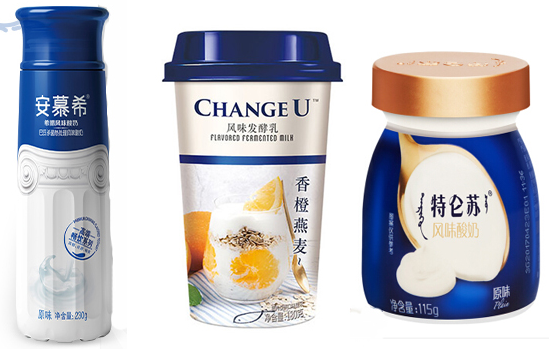 China's dairy market is still heavily depending on imports, even the country is investing a lot to strengthen the domestic dairy industry and regain the trust of consumers for Chinese made dairy products. After all, in 2016, China was only able to cover the domestic demand for dairy products by 75%.
According to the Ministry of Agriculture in China, the demand for dairy products in China is growing faster than the domestic production and supply, which will decrease the self-sufficient rate down by 5% in the next 3 years and another 5% till 2025.
After all, China's dairy market is booming, reaching up to USD55 billion in 2016, which places the country in the second rank behind the USA. This year, total sales of dairy products are USD64 billion in the United States.
Premium milk products like yoghurt have seen the biggest growth of dairy products as consumers start to choose higher quality products.
Yogurt revenue growth to surpass milk products
However, even China used to be a large dairy product importer, in the domestic market for yoghurt Chinese manufacturers are ahead of their Western counterparts. Only three domestic dairy players in the market have reached a share of 70% of the national yoghurt market. This demonstrates the growing competitiveness of Chinese dairy firms in domestic markets. Looking at the dairy market in general, the three enterprises just reach a market share of 50%.
According to the Financial Times, the revenues of fermented dairy products are going to surpass the ones of milk products for the first time in China. While Chinese milk sales will just grow around 4% in 2017, the growth of yoghurt is expected to grow more than 18%. Total sales of yoghurt in China has risen by 108.6 percent from 2013 to 2017, whereas milk sales grew by just 18 percent in the same period, the report said.
The three main players are Yili, Mengniu, and Bright Dairy. According to market intelligence firm
CCM
, all of these companies have launched new yoghurt products in 2017 to expand their share in the market. Many of these new products belong to the premium segment, enlarging the choice for consumers who are increasingly getting more aware of quality and healthcare products.
Selling yoghurt is very popular for manufacturers in China since the profit margins exceed the ones of plain milk by almost double. Currently, the profit margins are at 40%. The high margins enable a good profitably of this business, accounting for a big share of the total revenue for the dairy manufacturers.
The yoghurt market has been growing robustly both in terms of volume and value. Even the Chinese players are facing increasing competitive pressure from overseas players, regional players, start-up companies, as well as players in other food and beverage markets are still dominating the game.
Notably, this dairy product has also been a lifesaver for several dairy producers in China, as they had been struggling to cope with the slowdown in demand and the decline in prices, due to oversupply.
China's yoghurt imports surges
In general, China's dairy import has increased by about 20% year on year in 2016, based on volume. However, the import value only grew by 12% in the last year.
In 2015, China imported 10,274 tonnes of yoghurt and buttermilk, while in 2016 it was already 20.988 tonnes. Of this amount, 15,237 tonnes were yoghurt alone. This represents an increase of 104.3%. Looking at the import value, it grew by almost 52% from 2015 to 2016, with USD27.8 million in 2015 to USD42.2 in 2016.
China's Yogurt Imports, January 2016 – August 2017

Source: CCM
Notably, the import share of yoghurt and buttermilk in all dairy imports was only 0.5% in 2015 but grew to 0.9% in 2016. The still relatively small amount is caused by the strong market share of domestic players and the resulting less need for imports. For comparison, the share of whole milk powder in 2016 was 18.4% and of milk and cream products 27.8%. These are the products which Chinese still prefer the foreign brands due to the better reputation and quality.
Foreign companies are missing their share

Overseas enterprises have yet to get a reasonable market share in China's highly profitable and booming yoghurt market. Since the demand is growing faster than the supply, manufacturers and traders could focus on the Chinese market in the near future and launch their own premium yoghurt products to participate in the competition for fulfilling the needs of a middle-class with growing income and hunger for healthy yoghurt products.
About CCM

CCM is the leading market intelligence provider for China's agriculture, chemicals, food & ingredients and life science markets.
Do you want to find out more about the dairy market in China? Try our Newsletters and Industrial Reports or join our professional online platform today and get insights in Reports, Newsletter, and Market Data at one place.

For more trade information of dairy products, including Import and Export analysis as well as Manufacturer to Buyer Tracking, contact our experts in trade analysis to get your answers today.