As China's amino acids manufacturers are expanding their production and application scope, overcapacity and environmental pollution are adding high pressure on the future development.
In the past years, Chinese amino acids manufacturers have changed their business focus and started to target the market of minor amino acids, like valine, isoleucine, and glutamine. As those products can be counted to the healthcare and medicine industry, the profit for producers is higher than the one of bulk amino acids, since they are stated at high-grade amino acids. Since bulk amino acids, like glycine and taurine, are comparable cheap, there have been several scandals in the past of companies adding a large amount of those into protein or health products to trick a high amount of proteins, when in reality too much non-essential amino acids without the support of related other amino acids become pretty useless for the human nutrition.
After expanding into the healthcare and pharmaceuticals market, some manufacturers now introduce the application of amino acids in cosmetics. This step will further expand the application scope of China's amino acid industry and help producers getting more mature in the still weak area of research and development. Currently, amino acids are mainly used in feeds, food and pharmaceuticals. To be more specific, feed-grade and food-grade amino acids are accounting for over 80% market shares of the total, due to the huge demand for poultry and livestock raising industry in China. However, the competition in the feed grade amino acid market is quite fierce, when many leading producers have been expanding their capacity or upgrade technologies.
Similarly, amino acids are predicted to be increasingly used in food, such as beverages, bakery, dairy products and health-care products. Pharmaceutical grade amino acids boast promising prospects, especially in the Large Volume Parenteral (LVP) market. LVP plays a significant role in clinical treatment, with a large market demand. What's more, the demand is increasing thanks to the fact that Chinese authorities are working on to standardise the use of LVP products. However, again, the market competition here is also very fierce.
Struggling with environmental pressure and overcapacity
According to market intelligence firm CCM, amino acid products are believed to have a larger scope of application in the future. However, with more enterprises increasing capacity, an oversupply situation may appear as a result. The industry is already facing heavy environment pressure, which has been closely related to the fluctuations in the domestic amino acid price in the past few years. Recent years have seen increasing investments into China's amino acids production. Leading producers announced their latest development in production techniques or production expansion. Yet, such continual production expansion is likely to result in overcapacity in the foreseeable future, despite the growing market demand. Whether the overcapacity will become serious needs further observation on future production projects.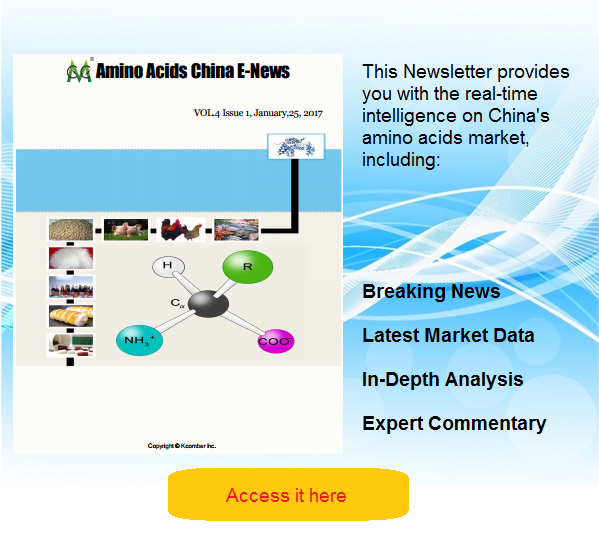 Domestic enterprises in China are struggling additionally with problems like weak R&D abilities and the lack of core technologies, which manufacturers in other advanced countries are using. There is also a serious product homogeneity, and the quality assurance system needs improving
For domestic producers, on the one hand, cost control is still being an import mission in order to maintain their cost and price advantages in the global market. Some producers, like Fufeng Group and Meihua Bio, have moved their production to remote regions with low raw material and labour cost in China. On the other hand, domestic producers tend to expand businesses through the product diversity development, which is a horizontal expansion, supplementing the existing fermentation business with additional highly profitable products. This can help them make full use of the resources in fermentation industry.
About CCM
CCM is the leading market intelligence provider for China's agriculture, chemicals, and life science markets.
Do you want to find out more about the life science market in China? Try our Newsletters and Industrial Reports or join our professional online platform today and get insights in Reports, Newsletter, and Market Data at one place.
For more trade information of feed products, including Import and Export analysis as well as Manufacturer to Buyer Tracking, contact our experts in trade analysis to get your answers today.